The Fourth Kind is a 2009 film directed by Olatunde Osunsanmi. The Fourth Kind is a psychological thriller with elements of sci-fi, horror and mystery genres. It is directed in the "Blair Witch" and "Paranormal Activity" style i.e. documentary filming. In this case, even tapes with "real" people were used to convince audience in truthfulness. They were shown alongside with the film which, from the editing point of view, makes strong psychological impact on the audience's mind.
The film opens with a literal introduction by Milla Jovovich, who explains that the film is based on actual footage from real cases. Dr. Abigail Tyler (Milla Jovovich) began videotaping sessions with traumatized patients and unwittingly discovered some of the most disturbing evidence of alien abduction ever documented.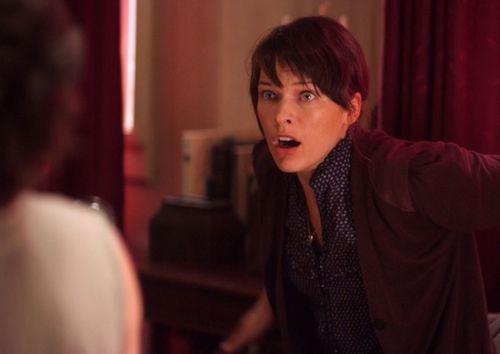 Before watching it you must answer the question to yourselves: are you ready to accept what you will see? Are you ready to believe in it? But if you are sceptic and 100% sure that there is nothing supernatural in this world and you are waiting effects and just another story about aliens: this is your choice and no one can judge you. Although, then I can assure you that this film is not for you. Most of the people made this mistake. They are not pleased, because they don't believe and they don't want to believe.
I think the lack of knowledge and factors as well as corrupted tapes don't tell us that everything in this film is a trickery or just imagination of director.
Of course, I am not a fanatic of an alien idea and I am not trying to convince you that aliens do exist and that everything in this film is truth, but I just suggest you to think that if you don't know something it doesn't mean that it does not exist.
This is a heavy psychological, inexplicable documentary film with a big amount of dialogues. Is it scary? Rather yes than no. Thanks to these tapes with shaking people, screams etc. the film has a great eerie atmosphere, an atmosphere of mystery and uncanniness. It was really scary in a few moments, even when I knew what would happen in the next scene.
The editing plays strongly with your imagination. I think the editing is the best side of this film, because it makes psychological tension. The sequence when the patient is telling about his nightmares: camera shows you the patient, then the psychiatrist and when it comes back there is another patient with a similar problem and exactly the same description. It hits you with the full power. The cuts with owl especially make a psychological impact on your mind and play with your imagination.
I am not rejecting everything that I can not explain, so that's why I did not write that this is just another sci-fi alien film. I enjoyed the atmosphere of The Fourth Kind and its thrilling sequences. I allowed myself to be imbued by its atmosphere and tried to feel and touch the watching subject.
After watching it I was left with strong "positive" emotions.